Vitra
HAL Armchair Studio without upholstery
designed by

Jasper Morrison
Vitra
Office Chairs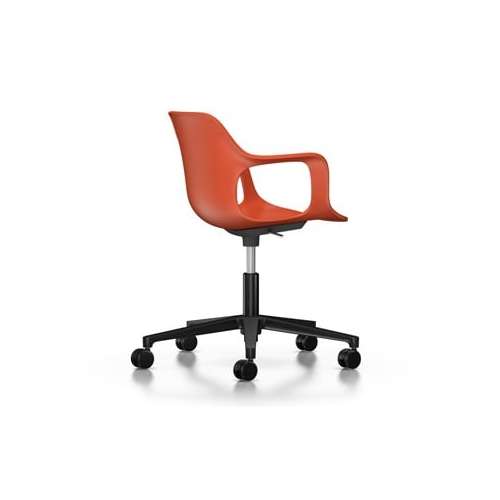 550.0055
454,55 € excl.VAT*
Jasper Morrison has added a new model to the HAL chair family: the HAL Armchair. Based on the HAL seat shell, he developed an organic one-piece shell that takes on a distinctive look of its own with the curved armrests 'growing' out from the sides - while still bearing a clear family resemblance to the rest of the line. The shell construction responds to the physical forces operating on the seat and provides maximum stability and superb comfort with a minimum amount of material. This comfort is enhanced even further in the versions with a seat cushion.
For the base, there is a choice of four-legged bases in tubular steel or wood as well as a five-star base on castors. Thanks to the openings under the armrests, HAL Armchairs with a tubular steel base can be stacked (but only in the version without a seat cushion).
Hopsak
yellow/pastel green

meadow green/ivory

grass green/forest

ivory/forest

nero/forest

mint/ivory

mint/forest

petrol/moorbrown

iceblue/ivory

ice blue/moor brown

blue/ivory

blue/moor brown

dark blue/ivory

darkblue/moor brown

dark grey

nero

nero/moor brown

marron/moor brown

warm grey/moor brown

red/moor brown

red/cognac

red/poppy red

coral/poppy red

pink/poppy red

poppy red/ivory

yellow/poppy red

cognac/ivory

warmgrey/ivory

green/ivory

sea blue/dark grey

sea blue/ivory

dark grey/nero

nero/ivory

nude/ivory

yellow/ivory

mustard/ivory

mustard/dark grey
plastic
White

ice grey

basic dark

chocolate

brick

ivy

orange

warm gray
This item is available in different versions, also items that are not on our website. Contact us for more information and a quote.