Thonet
S 35 N Ligzetel All Seasons, Warm Grey, Nature
designed by

Marcel Breuer
Thonet
Tuinstoelen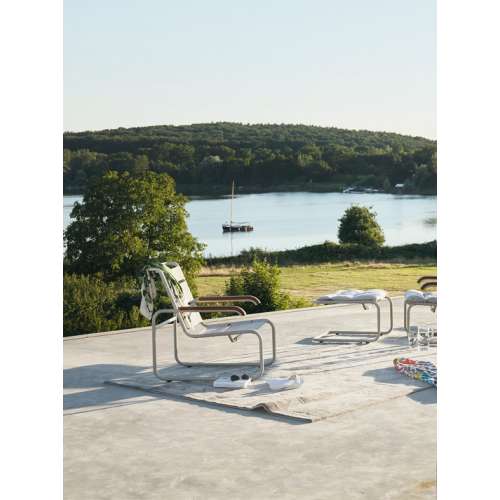 2474.45
2 045,00 € excl.VAT*
Lekker relaxen in de tuin, op je terras of balcon? Sinds de lounge chair S 35 by Marcel Breuer een "All Seasons" makeover kreeg, is hij weerbestendig. Je kunt je creatief uitleven door onderstel en bekleding te combineren in eigentijdse kleuren.
Ligzetel S 35 N van Marcel Breuer maakt deel uit van de Thonet All Seasons-collectie: je favoriete stalen buizenklassiekers voor buitengebruik, met een gekleurd ThonetProtect-oppervlak voor de frames, dat net zo UV-bestendig is als het gaas voor de zittingen en rugleuningen. Nog beter: wanneer krassen het gekleurde oppervlak zouden beschadigen, verliest de coating zijn beschermende werking niet.
Designcollectors biedt de Thonet All Seasons-collectie in 7 kleuren voor de frames - een spectrum volgens de Bauhaus-kleurtheorie en het kleurenwiel van Johannes Itten. Bovendien maken de 12 beschikbare kleuren voor het gaas een veelvoud aan variaties mogelijk. Ook verkrijgbaar: kussens voor de zitmeubelen in bijpassende kleuren.
Andere klassiekers uit de Thonet All Seasons-collectie: hocker S35 NH (Marcel Breuer), tuintafel S 40 / S 1040, klassiekers S 33 en S 34 (Mart Stam), S 533 (Ludwig Mies van der Rohe), bijzettafels B 9 (Marcel Breuer) en B 97 (Thonet Design Team).
Currently

S 35 N Ligzetel All Seasons, Warm Grey, Nature

In Stock

For other configurations or specific requests about this product:

Did you know that it's possible to order any product from the brands
we represent though it's not currently available in our online store?