Vitra
Rayonnage Mural - Natural oak - Blanc Colombe (ecru)
designed by

Jean Prouvé
Vitra
New Jean Prouvé Collection
-10%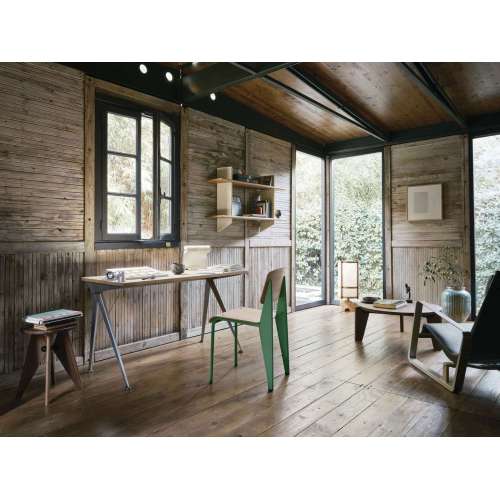 1489.994
1 231,40 € H TVA*
Les bibliothèques qui se fixent au mur étaient courantes dans les intérieurs de la première moitié du XXe siècle. Jean Prouvé a également conçu un certain nombre d'étagères murales différentes - comme le Rayonnage Mural produit par Vitra, qui a été conçu à l'origine en 1936 pour l'École nationale professionnelle de la ville française de Metz. Les deux supports muraux verticaux du Rayonnage Mural sont fabriqués en tôle pliée peinte. Avec leur forme aérodynamique, qui rappelle le gouvernail d'un avion ou d'un bateau, elles sont un élément récurrent des dessins de Prouvé. Les supports muraux présentent des fentes horizontales précises dans lesquelles sont insérées les étagères en bois massif. Ensemble, ces deux matériaux contrastés forment une étagère pratique qui possède les qualités sculpturales d'un objet esthétique.
Currently

Rayonnage Mural - Natural oak - Blanc Colombe (ecru)

In Stock

For other configurations or specific requests about this product:

Did you know that it's possible to order any product from the brands
we represent though it's not currently available in our online store?