Eames Plastic Armchair LAR sans revêtement - Pale rose
Vitra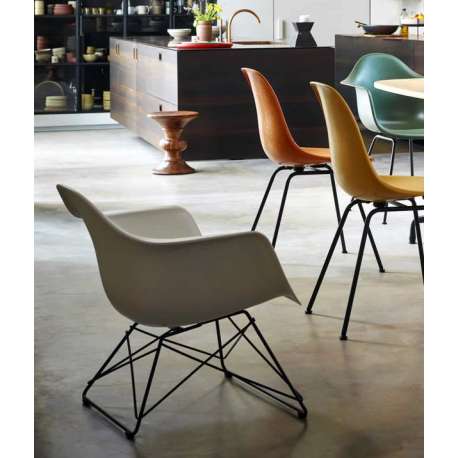 Avec les Plastic Chairs, Charles et Ray Eames ont lancé une chaise polyvalente dont la coque peut être associée à toute une gamme de piétements différents. Dès 1950, ils ont présenté une série de piétements permettant des positions d'assise variées, dont le bas LAR (Lounge Height Armchair Rod Base). Le LAR semble avoir été l'une des créations favorites de Charles et Ray : on l'aperçoit sur de nombreuses photographies vintage de la légendaire Maison Eames à Pacific Palisades – tant à l'intérieur qu'à l'extérieur. Cela révèle également combien la chaise était légère et avec quelle facilité elle pouvait être déplacée. Grâce à ses dimensions compactes, la Plastic Chair LAR peut aussi être utilisée dans des intérieurs moins spacieux, tandis que le vaste choix de couleurs permet des associations avec divers styles et aménagements. Le piétement en fil d'acier, qui permet d'obtenir une stabilité maximale avec un minimum de matériaux, s'est vu affublé d'un charmant surnom : « Cat's Cradle » ou « berceau du chat », en référence à un jeu d'enfants utilisant une corde. 
Currently

In Stock

For other configurations or specific requests about this product:

Did you know that it's possible to order any product from the brands
we represent though it's not currently available in our online store?