Home
Eames DAX without upholstery
Vitra
Eames DAX without upholstery
designed by

Charles & Ray Eames
Vitra
Home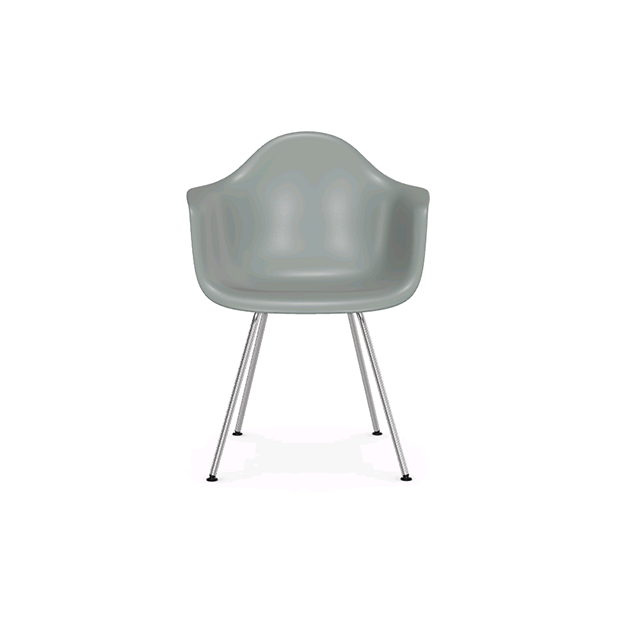 420.0031
347,11 € excl.VAT*
The Eames Plastic Side Chair was designed in 1950 for the Low Cost Furniture Design competition by the Museum of Modern Art in New York. The chair with a choice of bases was the very first industrially manufactured chair in plastic. Thanks to the organic seating shell, you can enjoy high-quality comfort. In 2015, the seat geometry and height of the Plastic Chairs were adapted to today's requirements. The base of the Eames Plastic Side Chair DAX ((Dining Height Armchair X-Base) is available in a chrome-plated or powder-coated version.
In collaboration with the Eames family, Vitra has updated the colour palette of the iconic Eames Plastic Chair seating shells. The colours for the seat shell have been chosen to enhance the material in any environment. In the palette offers you discover 14 contemporary shades - neutral, medium and bright. Mix and match as you like!
Hopsak
yellow/pastel green

meadow green/ivory

grass green/forest

ivory/forest

nero/forest

mint/ivory

mint/forest

petrol/moorbrown

iceblue/ivory

ice blue/moor brown

blue/ivory

blue/moor brown

dark blue/ivory

darkblue/moor brown

dark grey

nero

marron/moor brown

warm grey/moor brown

red/moor brown

red/cognac

red/poppy red

coral/poppy red

pink/poppy red

poppy red/ivory

cognac/ivory

warmgrey/ivory

green/ivory

sea blue/dark grey

sea blue/ivory

dark grey/nero

nero/ivory

nude/ivory

yellow/ivory

mustard/ivory

mustard/dark grey
plastic
White

mustard

ice grey

poppy red

deep black

clear gray

seablue

pebble

soft pink

rusty orange

granite grey

sunlight

green

forest
Checker
This item is available in different versions, also items that are not on our website. Contact us for more information and a quote.