Home
Eames Plastic Armchair PACC
Vitra
Eames Plastic Armchair PACC
designed by

Charles & Ray Eames
Vitra
Home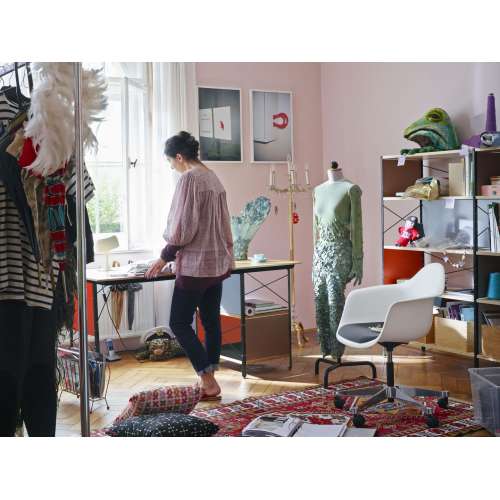 789.9969
652,89 € excl.VAT*
Since the 1950s, the organically shaped seat shell of the Plastic Side Chair has been combined with various bases. the castors turn it into an office swivel chair. in its current polypropylene version the PSCC offers even greater comfort. Pacc (=Pivot armchair Cast Base on Castors) - seat shell and padding: dyed through seat shell of propylene, available with seat padding (screwed to the seat shell) or with full upholstery. the fully upholstered design is made of moulded polyurethane foam that is covered with the hopsak fabric and is attached to the shell with beading. Cover colour can be chosen from the full range of hopsak colours. - Base: five-star base in polished die-cast aluminium. With basic dark double-castors.
Hopsak
yellow/pastel green

meadow green/ivory

grass green/forest

ivory/forest

nero/forest

mint/ivory

mint/forest

petrol/moorbrown

iceblue/ivory

ice blue/moor brown

blue/ivory

blue/moor brown

dark blue/ivory

darkblue/moor brown

dark grey

nero

marron/moor brown

warm grey/moor brown

red/moor brown

red/cognac

red/poppy red

coral/poppy red

pink/poppy red

poppy red/ivory

cognac/ivory

warmgrey/ivory

green/ivory

sea blue/dark grey

sea blue/ivory

dark grey/nero

nero/ivory

nude/ivory

yellow/ivory

mustard/ivory

mustard/dark grey
plastic
White

mustard

ice grey

poppy red

deep black

clear gray

seablue

pebble

soft pink

rusty orange

granite grey

sunlight

green

forest
Checker
This item is available in different versions, also items that are not on our website. Contact us for more information and a quote.