Home
Fiberglass
Eames Fiberglass Chairs: DSX - Eames classic red - Basic dark powder coated
Vitra
Eames Fiberglass Chairs: DSX - Eames classic red - Basic dark powder coated
designed by

Charles & Ray Eames
Vitra
Fiberglass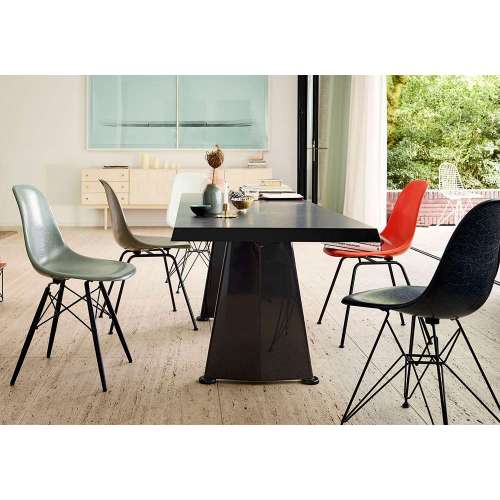 640.0053
528,93 € excl.VAT*
In 1948, Charles and Ray Eames participated in the 'International Competition for Low-Cost Furniture Design', organised by the New York Museum of Modern Art, entering a chair with a seat shell moulded to fit the contours of the human body along with a concept for a variety of bases. Their design won second prize. However, the metal seat shell proved too complex and expensive to achieve successful mass production. The couple's search for alternative materials eventually led them to glass-fibre, a charming and pleasant material.
With its four-legged base in tubular steel, the Fiberglass Chair DSX (Dining Height Side Chair X-Base) is the most understated version of Charles and Ray Eames's classic chair. Available in 9 of the original colours.
Currently

Eames Fiberglass Chairs: DSX - Eames classic red - Basic dark powder coated

In Stock

For other configurations or specific requests about this product:

Did you know that it's possible to order any product from the brands
we represent though it's not currently available in our online store?