Home
Aluminium Chair EA117 Chaise - Leather - Nero/nero
Aluminium Chair EA117 Chaise - Leather - Nero/nero
Vitra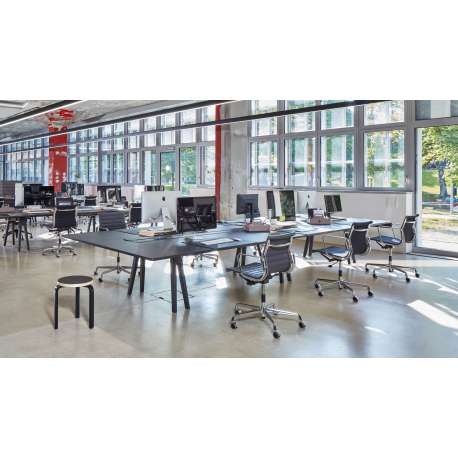 Plus de 5 disponibles
free shipping
Au bureau, dans une salle de réunion ou d'attente ou encore à la maison, la chaise Aluminium Chair de Charles et Ray Eames constitue un ajout remarquable. Il n'est pas surprenant qu'il s'agisse de l'un des meubles les plus importants du 20e siècle. Tout cela est le résultat des formes nettes et de la manière intelligente avec laquelle les matériaux sont reliés. Par exemple, le tissu est un élément de soutien de la construction visible en aluminium, ce qui assure un confort d'assise et un soutien maximum. Vitra produit l'Aluminium Chair depuis des décennies, c'est pourquoi vous bénéficiez d'une garantie de 30 ans sur les erreurs de production. En bref, avec ce classique, vous êtes tranquille pour des années.
Currently

In Stock

For other configurations or specific requests about this product:

Did you know that it's possible to order any product from the brands
we represent though it's not currently available in our online store?