Knoll
Bertoia Side Chair, White rilsan (exterieur)
designed by

Harry Bertoia
Knoll
Outdoor Dining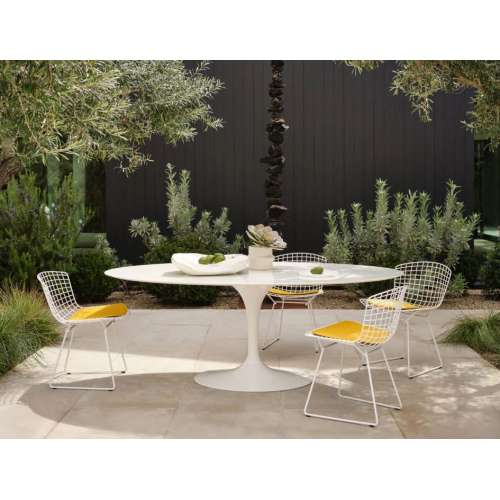 Créée en en 1952 et toujours aussi fraîche et élégante aujourd'hui. La chaise Bertoia Side Chair est le résultat des expériences d'Harry Bertoia avec du fil d'acier industriel plié. Le succès de cette chaise emblématique est dû à son design gracieux et à sa finition de haute qualité. Le piétement et l'assise sont en acier soudé avec des tiges chromées polies ou en Rilsan collé, une finition très durable - résistante aux griffes, aux éclats et aux produits chimiques. La Bertoia Side Chair avec finition Rilsan peut aussi être facilement utilisée à l'extérieur. Pour plus de confort, ajoutez le coussin d'assise ou de dossier assorti.
Currently

Bertoia Side Chair, White rilsan (exterieur)

In Stock

For other configurations or specific requests about this product:

Did you know that it's possible to order any product from the brands
we represent though it's not currently available in our online store?