Thonet
S 43 F Chair, Black TP29, Beech stained
designed by

Mart Stam
Thonet
Chairs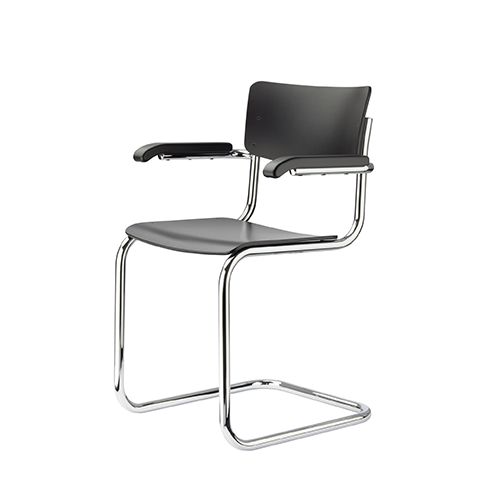 In all of his furniture designs Mart Stam relied on straightforward forms, an aesthetic economy of means in the construction and the benefit of improved sitting comfort. In the case of the S 43 F Chair he combined the tubular steel frame with molded plywood shells for seat and back and thus created an absolute reduction. Due to the comfortable flexing effect of the frame, upholstery is unnecessary. Its clear, reserved form makes this cantilever S 43 F Chair an exemplary design in the spirit of modernism. Today, Thonet owns the artistic copyright for this strictly cubic chair without back legs. Moulded plywood seat and backrest in beech stained, lacquered and texture finish in 11 colors. 
Currently

S 43 F Chair, Black TP29, Beech stained

In Stock

For other configurations or specific requests about this product:

Did you know that it's possible to order any product from the brands
we represent though it's not currently available in our online store?
S 43 F Chair, Black TP29, Beech stained

Suits well with