Home
S 285/0 Bureau, Stained ash, Deep black
Thonet
S 285/0 Bureau, Stained ash, Deep black
designed by

Marcel Breuer
Thonet
Home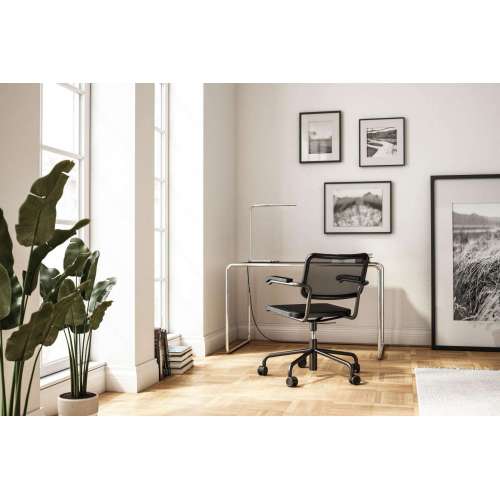 1875.5
1 550,00 € excl.VAT*
Een echte designklassieker uit het Bauhaus-tijdperk: het bureau met stalen buizen S 285 is een geslaagd voorbeeld van de Bauhaus-claim om esthetiek en techniek te combineren tot een formele eenheid. Het eenvoudige meubel met zijn evenwichtige proporties belichaamt een expressief stukje hedendaagse geschiedenis dat bekend staat als "de nieuwe zakelijkheid". Verkrijgbaar bij Designcollectors in verschillende uitvoeringen (alleen het bureau of gecombineerd met laden of open legplanken). Frame van verchroomde stalen buizen, body in gebeitst eiken- of essenhout, geolied notenhout of gelakt in tal van kleuren.
Currently

S 285/0 Bureau, Stained ash, Deep black

In Stock

For other configurations or specific requests about this product:

Did you know that it's possible to order any product from the brands
we represent though it's not currently available in our online store?
S 285/0 Bureau, Stained ash, Deep black

Suits well with