Home
Pivot Stool Chaise de bureau - Black
Vitra
Pivot Stool Chaise de bureau - Black
designed by

Antonio Citterio
Vitra
Accueil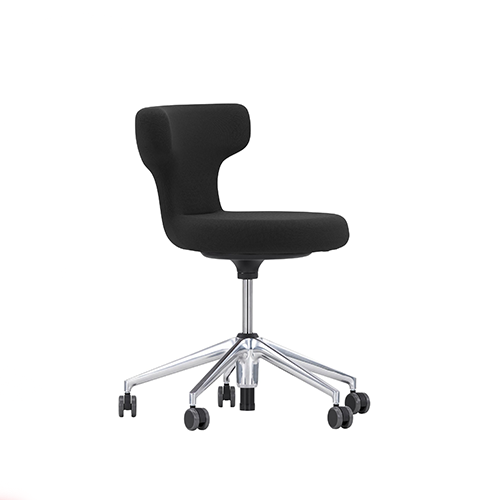 La chaise de bureau Pivot d'Antonio Citterio est environ 30 cm plus haute qu'une chaise de bureau standard. Elle facilite ainsi une alternance saine et spontanée entre les positions debout et assise : au lieu de relever ou d'abaisser le bureau, l'utilisateur travaille sur une table haute et peut s'asseoir sur la Pivot ou se lever à son gré.
Le dossier arrondi et incurvé de la Pivot assure une grande liberté de mouvement : la chaise peut également être utilisée en position latérale ou comme support stable sur lequel s'appuyer. Grâce au tissu de couverture SingleKnit, Pivot n'a pas de coutures irritantes. En combinaison avec le rembourrage agréable, cela rend la chaise très confortable. La texture à motifs carrés offre une surface antidérapante sûre. Un repose-pieds réglable en hauteur permet aux utilisateurs plus grands ou plus petits de trouver une position assise confortable, tandis que des roulettes à frein inversé empêchent la chaise de rouler lorsqu'une pression est appliquée.
Outre le Pivot High Stool, le modèle haut pour le travail debout, Pivot est disponible en chaise visiteur haute dans la version Pivot Counter Stool avec piétement 4 branches sur patins, ainsi qu'en hauteur standard pivotante dans la version studio Pivot Stool.
Currently

Pivot Stool Chaise de bureau - Black

In Stock

For other configurations or specific requests about this product:

Did you know that it's possible to order any product from the brands
we represent though it's not currently available in our online store?