Home
S 285/0 Bureau, Stained ash, Deep black
Thonet
S 285/0 Bureau, Stained ash, Deep black
designed by

Marcel Breuer
Thonet
Accueil
-10%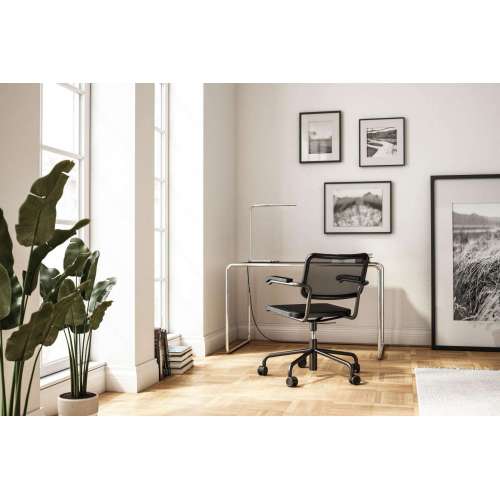 Un vrai classique du design de l'époque du Bauhaus : le bureau S 285 en acier tubulaire est un exemple réussi de l'ambition programmatique du Bauhaus combinant esthétique et technologie dans une unité formelle. Ce meuble simple aux proportions équilibrées sur le plan formel incarne une pièce expressive de l'histoire contemporaine connue sous le nom de « Nouvelle Objectivité ». Disponible chez Designcollectors en différentes versions (bureau uniquement ou combiné à une table dessin, des étagères ouvertes). Structure en acier tubulaire chromé, corps en chêne et frêne teinté, noyer huilé ou corps laqué en diverses couleurs.
Currently

S 285/0 Bureau, Stained ash, Deep black

In Stock

For other configurations or specific requests about this product:

Did you know that it's possible to order any product from the brands
we represent though it's not currently available in our online store?
S 285/0 Bureau, Stained ash, Deep black

Articles assortis